Dorf Tirol − holiday apartments for 2 to 5 people
Prices & offers for the Schlettererhof
Prices apartments 2021
winter season

09.01.22 - 26.03.22
06.11.22 - 02.12.22
low season

26.03.22 - 09.04.22
23.04.22 - 07.05.22
02.12.22 - 23.12.22


1st mid season

09.04.22 - 23.04.22
07.05.22 - 21.05.22
22.10.22 - 06.11.22


2nd mid season

24.12.21 - 09.01.22
21.05.22 - 25.06.22
23.12.22 - 08.01.23
high season

25.06.22 - 22.10.22
Apartment 1 | 2-4 pers.
69,00 Euro
79,00 Euro
88,00 Euro
95,00 Euro
102,00 Euro
Apartment 2 | 2-5 pers.
81,00 Euro
91,00 Euro
100,00 Euro
105,00 Euro
115,00 Euro
Apartment 3 | 2-4 pers.
74,00 Euro
84,00 Euro
93,00 Euro
99,00 Euro
107,00 Euro
Apartment 4 | 2-3 pers.
74,00 Euro
84,00 Euro
93,00 Euro
99,00 Euro
107,00 Euro
Apartment 5 | 2-5 pers.
79,00 Euro
89,00 Euro
98,00 Euro
103,00 Euro
112,00 Euro
The prices are meant a stay of 4 days per for 2 person and overnight.
Including cleaning and MeranCard.
Each additional person: up to 1 year free, from 1 - 5,99 years 12,00 Euro, from 6 - 13,99 years 16,00 Euro, from 14 years 19,00 Euro.
Tourist tax: Prices shown will attract a tourist tax of 1,75 Euro per person (aged 14 years and over) per day payable on departure.
Breakfast buffet (10.04.-25.06.22 and 23.10.-05.11.22):
Free of charge, if the children do not have breakfast, up to 6 years 7,00 Euro, 6 - 13,99 years 9,00 Euro, from 14 years 11,00 Euro. Previous registration required!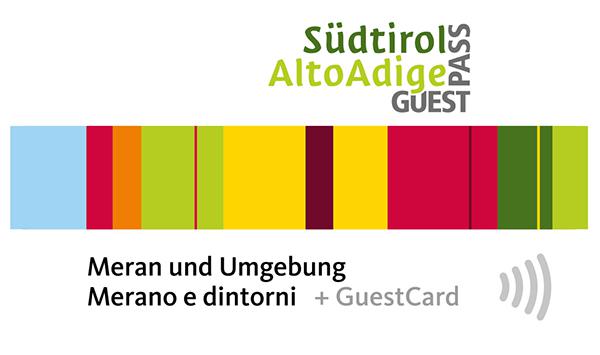 Our bonus for you!
When you stay at the Schlettererhof, you will receive the MeranCard as our free gift to you.

PDF-MeranCard 2022
Everything else you need to know:
30,00-40,00 Euro surcharge applies to stays of less than four nights.

No arrivals and departures on Sunday.

Tourist tax: Prices shown will attract a tourist tax of 1,75 Euro per person (aged 14 years and over) per day payable on departure.

Important: During the Easter, Whitsun, summer and autumn holiday periods, apartments 2 and 5 are only rented out to 4 people. Otherwise, a surcharge will apply (one person too few Euro 10 – two people Euro 20). During the main holiday periods, apartments are not rented out for less than one week.


Cleaning: The prices listed include cleaning of your apartment upon departure. Cleaning is also possible during your stay for an additional fee ranging.


Parking: Garage parking only by prior arrangement (we charge a daily free of Euro 3.00).

For dogs: Pets are not allowed in the apartments.

Arrival: Apartments and rooms are available for occupancy after 2:30 p.m.
Please take this into account when planning your trip.
If you happen to be arriving after 7:00 p.m., please let us know in advance.

Departure: On departure day we ask you to vacate the flat or room by 10:00 am.
No arrival/departure on Sundays.

Methods of Payment: Payment is accepted either in cash (not more than 1.999,99 Euro) or by crossed check. Credit cards and EC-cards are not accepted.

You can also transfer the money in advance.
BIC/SWIFT: RZSBIT21044

Our IBAN number: IT 60 X 08278 59000 000300208311
Any expenses incurred shall be borne entirely by the guest.

Bookings: Oral or telephone confirmations are non-binding.
We therefore request a written booking confirmation. In addition, a booking guarantee / deposit of 200,00 Euro is required. If the deposit is refunded, 10,00 Euro will be deducted for handling fees.

Cancellation policies in accordance with Art. 1382 ZGB: There's not provided a right to withdraw from the contract in accordance with the Italian consumer protection law (d.lgs. 206/2005) – yet we allow you to withdrawn from the contract under the following conditions:
Bookings may be cancelled up to 90 days prior to the set arrival date free of charge.
Between the 90th and 60th day prior arrival, we charge the price for 3 overnight stays, between the 60th and 30th day prior arrival, we charge the price for 7 overnight stays (or less if your reservation isn´t one week), after the 30th day prior arrival, we charge the price for the complete booked reservation (excl. meals).
Otherwise there are no cancellation fees. In this case, the deposit will be credited or refunded (minus a 10. 00 Euro processing fee in the case of a return transfer).

Travel cancellation insurance: We strongly recommend taking out travel cancellation insurance.

Changes in duration of stay: if your arrival is later or departure is earlier than stipulated,
you will be charged in full for the length of your original reservation (excl. meals).
Good to know...
Depending on the season, you will find fresh fruit in the guest lounge, which you are welcome to enjoy at no extra cost.
Upon request, we are happy to make arrangements for delivery of fresh breakfast rolls between Easter and All Saints Euro 0,50) .
Book Corner (hiking guides, hiking tips, children's books, games, novels, detective stories)
Children's equipment, including cots/cribs as well as high chairs, is provided free of charge upon request.
Bedding and bathroom towels, crockery, cutlery etc., refrigerator-freezer, Ceran range, electric water jug, toaster, coffeemaker, dishwasher and vacuum cleaner provided
Microwave upon request
Washing machine available for guest use
free WiFi zone

A large terrace with gas grill is likewise available for guests to use.
Pick-up shuttle service for arrival/departure from the nearby train and bus stations by arrangement.


Further mobility information may be found at: www.suedtirolmobil.info

Discount Cards:
PDF-MeranCard 2022 • as our special gift to guests.

Local Infrastructure: Close to our farm, you will find shopping opportunities (just 100 meters away), restaurants, recreational attractions, culture, activities, hiking paths, special events and much more.

Further information can be found on: Tourist office Tirolo